Since 2008, Create Peace Project has worked with students and schools around the world.
We facilitate individual and collaborative art projects designed to give students a voice while brightening their community and environment. Through our creative arts programs, we inspire our youth to raise their voices and share their vision of peace with their communities and the world.
Book a Workshop
Projects We Facilitate
The Peace Exchange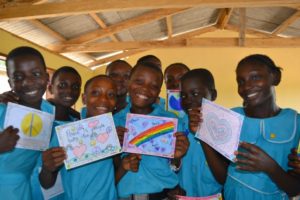 Our Peace Exchange workshops are an international exchange of art and messages of peace between students of the world. In this one-to-one exchange, students are asked to artistically express their vision of peace as well as share a message about who they are and what peace means to them on their personal peace card. The peace cards will be delivered and exchanged by Create Peace Project between students across the globe.
Murals for Peace
Our Murals for Peace workshops are collaborative arts initiatives inviting schools to organize a group of students to participate in the creation of a giant work of art with a positive vision, and positive message . Three project types provide groups of students the opportunity to work together to design, decorate, and paint to reflect their voice and vision for peace.
Create Peace Project is grateful for the support of our wonderful donors and in-kind Sponsors